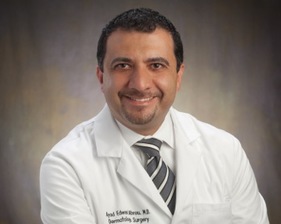 Dr. Abrou is fellowship-trained Mohs micrographic surgeon from Tufts-New England Medical Center in Boston, Massachusetts. He performed his internship and residency at Henry Ford Hospital, Department of Dermatology. Dr. Abrou received his medical degree from the Wayne State University School of Medicine.

Dr. Abrou specializes in dermatology, with special interest in skin cancer, dermato-oncology, and Mohs micrographic skin cancer surgery. Such surgery involves precisely identifying and removing the entire tumor, layer by layer, while leaving the surrounding healthy tissue intact and unharmed. As the most exact and precise method of tumor removal, Mohs micrographic surgery lessens the chance of re-growth and the potential for disfigurement. It offers the highest success rate of all treatments of skin cancer-up to 99 percent-and is the treatment of choice for many cancers of the face and other sensitive areas.

Certification and Affiliations: Board certified with the American Board of Dermatology. He is a fellow of the American College of Mohs Surgery, and a fellow of the American Society for Dermatologic Surgery. Dr. Abrou holds privileges at many hospitals in the greater Detroit area including: William Beaumont-Troy, Detroit Medical Center, Garden City, Henry Ford-Wyandotte, Oakwood, Providence-St. John and St. Joseph-Pontiac.

Academic Positions Dr. Abrou is an assistant professor at Oakland University William Beaumont School of Medicine. He continues to lecture to many medical professionals and the community at large regarding skin cancer prevention and treatment. Honors/Awards Dr. Abrou has been inducted to the Alpha Omega Alpha Medical Honor Society while in Medical School. The residents at Wayne State University, Department of Dermatology have elected him the recipient of Volunteer Faculty of The Year Award in 2007, and 2008. 
---